Frequently Asked Questions from our San Jose Sprinkler Repair Team

Q: What is "head to head" coverage mean, and do I need it?

A: If you've ever seen a misaligned sprinkler head throw water onto your driveway or sidewalk, you already know exactly how far your sprinklers can reach. If you're working with two sprinklers that have a little coverage overlap, you're achieving "head to head" coverage by making sure that one coverage zone doesn't end until the others already begun.
The alternative is to have an area where neither head reaches - like a spot on your back that you just can't scratch. If your non coverage area goes without water for too long, or if one head loses a bit of its coverage area from a water pressure drop or leak, then you can expect the non coverage area to brown and die in a short stretch of time. For this reason, we always recommend head to head coverage, to protect against head malfunctions and non coverage areas.

Q: Do I really have to fertilize my lawn?

A: Water isn't enough to keep a lawn thriving. The greenest lawns always receive not only a generous amount of fertilizer, but pesticides as well. If your lawn isn't looking as green as it used to, there could be many issues at stake. Installing automatic sprinkler system is only the first step to a greener, healthier lawn. If you want to go all the way, you'll need to cover all the bases.

Q: What's so special about your San Jose sprinkler repair company?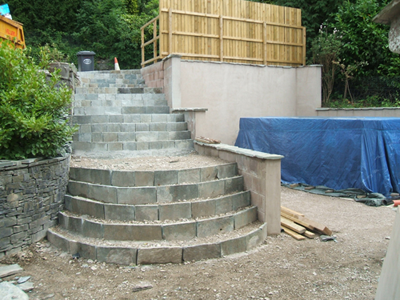 A: Since sprinkler repair is only a seasonal industry, there are a variety of service providers who don't treat sprinkler repair as a full-time job. Our sprinkler repair technicians work the longest season in Northern California with over a decade on the job, which means that we truly know our way around sprinkler systems. During the off season, you can also call on us for landscape design and stone work, including stone deck, retaining wall, and even grill island installations, because we want to stay as close to sprinkler systems as we can get, even when seasonal stresses aren't severe enough to require full-time sprinkler repair service. Meanwhile, you'll find other sprinkler repair companies focusing on completely unrelated jobs that will leave them unprepared to work with the new equipment that becomes available around April.

Want To Learn More? Our Irrigation Contractors in San Jose Can Help

Never forget that our lawn sprinkler repair team is just a phone call away. If you need help with service, or if you just want to understand your options a little better, we're here to make it clear. Contact us any time to meet the irrigation team that San Jose depends on.

Testimonials
"I was afraid we'd have that brown spot for the whole summer, but they were able to get things back to normal in under a month. Outstanding work."

- Deandra L.
"They showed up on time and were very courteous to me and my family. They replaced six sprinkler heads for a low price, and the bid was accurate to the dollar. Very unusual for contractors. Thanks!"

- Charlie D.
"I have been doing business with these guys for years and I can't give you a single complaint."

- Dennis M.